On this page you will find the information you need to create a new e-mail address.
You need the following information:
Your website address;
Your DirectAdmin username;
Your DirectAdmin password.
Step 1 – Log into DirectAdmin
Browse to the DirectAdmin login page of your website. You can find it at your own web address with :2222 added to your website address. Is your website example.org? Then your DirectAdmin login page is example.org:2222
When you arrive at the login page, you will see two fields (Figure 1). Enter the username of your DirectAdmin account and the password of your DirectAdmin account, then press Login.
Step 2 – Check the mail server
After logging in, you will be given the choice between all the different domains that are registered on your account. Select the domain for which you want to create the e-mail address. You are now greeted by the DirectAdmin settings screen (Figure 2). Beneath the heading E-Mail Management select MX Records.
Warning! Do not change anything on this page. If you do, you might not receive your e-mail anymore.
At the end of the page you will find the heading Local Mail Server. If the checkbox underneath Local Mail Server is checked as in figure 3, our servers will take care of your e-mail. If not, your e-mail will be handled by another company.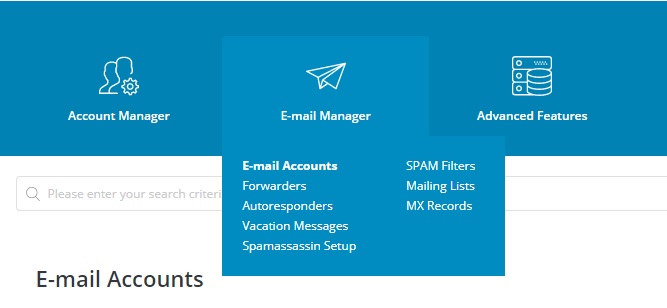 Figure 2 – DirectAdmin Settings