Before you follow this faq, first check if your e-mail is hosted by miWebb!
On this page you will find the information you need to create a new e-mail address.
You need the following information:
Your website address;
Your DirectAdmin username;
You DirectAdmin password.
Step 1 – Log into DirectAdmin
Browse to the DirectAdmin login page of your website. You can find it at your own web address with: 2222 added to the address. Is your website example.org? Then your DirectAdmin login page is at example.org:2222
If you have arrived at the login page, you will see two fields (Figure 1). Enter the username of your DirectAdmin account and the password of your DirectAdmin account. Then press Login.
Step 2 – Create a new email address
After logging in, you will be given the choice between the different domains that are registered on your account. Select the domain with which you want to create the e-mail address. You are now greeted by the DirectAdmin settings screen (Figure 2). Under the heading E-Mail Management select E-Mail Accounts. Then click on Create account at the top of the page. Fill in the desired e-mail address at Username, the desired password at password (or click random to generate a strong password), 50 at Email Quota and leave Send Limit empty (blank will default to 500). Then press create. You will see a page with a summary of your new email address. Remember the password correctly or save it in a password manager.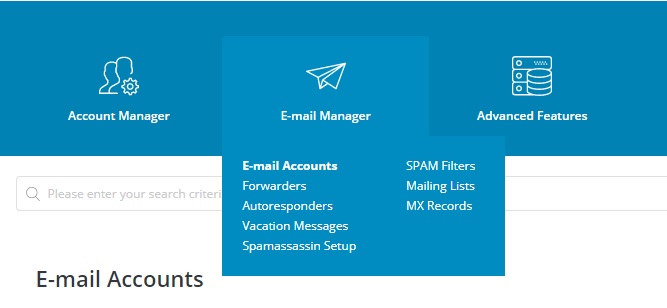 Figure 2 – DirectAdmin Settings