On this page you will find all the information you need to post a new blog post on your website.
You need the following information:
Your website address;
Your WordPress username;
Your WordPress password.
Step 1 – Log in to your website
To be able to create a blog post you must first log in to the WordPress installation of your website. You can find the login page by browsing to your web address with /wp-login.php added. Is your web address example.org? Then you will find your login page at example.org/wp-login.php
On the login screen you have to fill out two fields: enter your WordPress username under "your username or e-mail address" and your WordPress password under "Password". Then click on Log in to go to your WordPress installation.
Step 2 – Create the blog post
If you are logged into your WordPress installation you will be greeted with the WordPress welcome page. To go to your blog entries, click in the left sidebar on Posts. Here you will find an overview with all your blog posts. To create a new message, click on the New message button at the top of the page, next to the title.
Step 3 – Customize the blog post
Once you have created a new post, you will be taken to the editing page (Figure 1). Here you can customize all important elements of your blog post. The first field at the top of the page allows you to change the title of the blog post. The second field is the content field. Here you can edit the content of your blog post. This field has a toolbar to style your text. The toolbar has the following functionalities:

Paragraph type
Bold
Italic
Unordered list
Ordered list
Blockquote
Align left
Align center
Align right
Insert link
Insert read more tag
Toolbar toggle
U kunt nog extra functies weergeven door op Toolbar weergeven te drukken (12). De extra functies zijn als volgt:

Strikethrough
Horizontal line
Text color
Past as text (without formatting)
Clear formatting
Special character
Decrease indent
Increase indent
Undo
Redo
Show keyboard shortcuts
After you have written your post, it is important that you save it, otherwise the post will disappear when you leave the page. This can be done in two ways: save as a draft or publish. You will find these options on the right side of the screen (Figure 2). If you save the post as a draft it will not be visible on the live website, only to you in the WordPress installation. You can come back later and adjust the post again. If you publish the post it will be published on the live website. Everyone can see your blog post. Once it is published you can no longer save other drafts.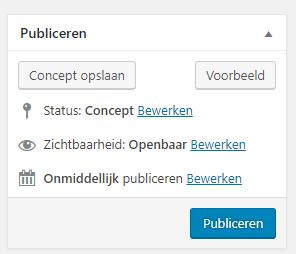 Figure 2 – Saving your blog post
Step 4 – Edit the metadata
After you have made a message, it is important that the metadata is in order. Meaning all information about your message that people, and search engines, can see about your post. First you can give your message a category. You can find this on the right side of the screen (Figure 3). Select a previously used category here, or click on Add new category to create a new category.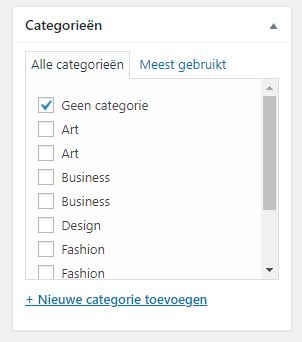 Figure 3 – Blog post categories
You can also tag your posts. These are keywords that describe your blog post. You will find the Tags window on the right side of the screen (Figure 4). Type a keyword and press Add to add the keyword. You can also add multiple keywords separated by a comma and then press add. If you often use the same keywords, you can click on Choose from most used tags to display the most common keywords on your website.
Finally, you can give your blog post a highlighted image. Depending on the website, this image is used in the references to the post and appears often at the top of your post. You will find this option on the right side of the screen (Figure 5). Click Choose highlighted image to choose the image for your post. In the appeared window you can choose an image from your media library or upload your own image by clicking Upload files at the top left of the window.
Some websites support multiple types of blog posts. You can find this post type on the right side of your screen (Figure 6). Each type of message gives you other functionalities to the blog post.
Never forget to save your message regularly!