Before you follow this faq, first check if your e-mail is hosted by miWebb!
On this page we will explain how you can receive your email in Gmail.
You need the following information:
Your email address;
Your email password;
Your website address.
Step 1 – Open Internet Accounts
Open System Preferences (Figure 1). On the system preferences screen you will find all settings for your Mac (Figure 2). Click on Internet Accounts to manage your accounts.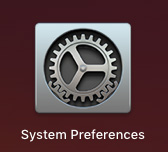 Figure 1 – System Preferences Shortcut
Step 2 – Add the account
In your Internet Accounts screen, at the bottom left of the window, click the plus icon to add an account. Scroll down in the right column and select Add Other Account… (Figure 3). A number of new options appears. Click on Mail Account to add a new e-mail address.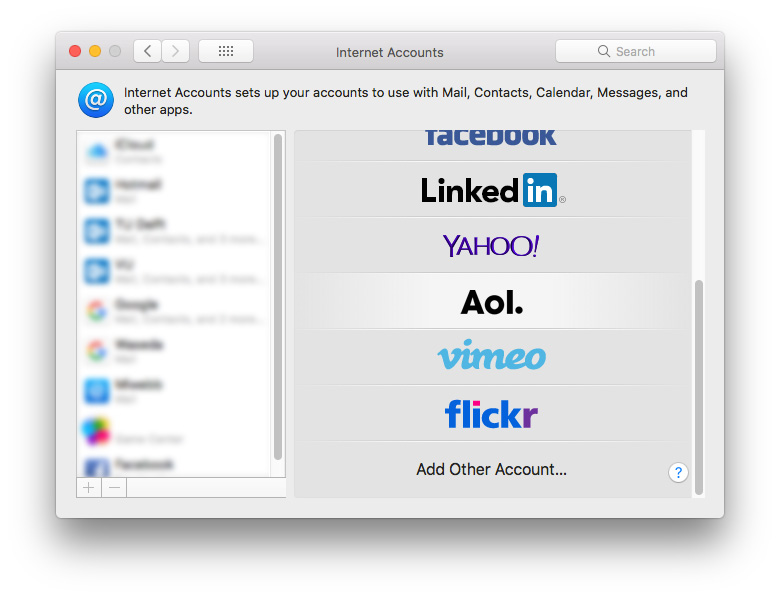 Figure 3 – Add New Account window
Step 3 – Configure the account
You will be presented with the login screen for the e-mail account (Figure 4). Fill in the fields as follows:
Name: enter your own name or the name you want recipients of your mail to see;
Email Address: enter the e-mail address you want to use here;
Password: enter the password of your e-mail address here.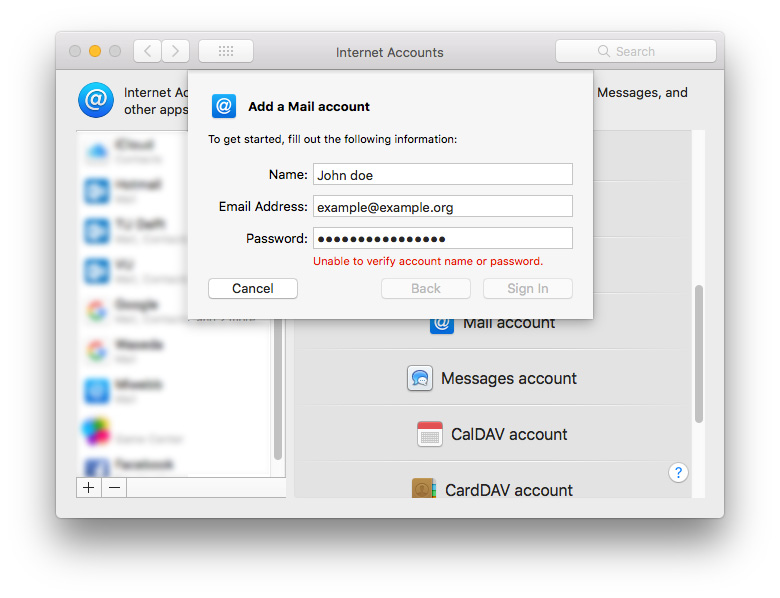 Figure 4 – Configure e-mail account
Step 4 – Configure the mail server
When you are logged in, more data will be requested (Figure 5). Your Mac still lacks the login details to receive and send your mail. Fill in the fields as follows:
Account type: Choose from pop3 and imap4. Both will let you receive and send email: with imap4 you copy the mail from the server to your inbox and with pop3 you move the email from the server to your inbox. With imap4 you can still view your email on the server and you can use multiple devices with your mailbox, this is not possible with pop3;
Incoming Mail Server: Enter your website address with mail. before it. Is your website address example.org? Then fill in mail.example.org;
Outgoing Mail Server: Enter the same as Incoming Mail Server.
Then press Sign In. This may take several minutes. Your mail has now been added to your Mac Mail.